Insights News about Faculty and their Research
New in print
Several School of Management faculty members have been busy writing new books.
Here are a few that have been published this past year:

Multi-Level Issues in Organizations and Time
By Fred Dansereau and Francis Yammarino (Elsevier Ltd., 2007)
This book is Volume 6 of Research in Multi-Level Issues, an annual series that provides an outlet for the discussion of multi-level problems and solutions across a variety of fields of study using a scientific debate format of a key scholarly essay followed by two commentaries and a rebuttal.

Managing Information Assurance in Financial Services
Edited by H. R. Rao, Manish Gupta and Shambhu J. Upadhyaya (IGI Publishing, 2007)
This book provides high-quality research papers and industrial practice articles about information security in the financial service industry. It provides insight into current information security measures, including technology, processes and compliance from some of the leading researchers and practitioners in the field.

National Security (Handbooks in Information Systems, Volume 2)
Edited by RamRamesh, Hsinchun Chen, Raghu Santanam, Ajay Vinze and Daniel Zeng (Elsevier Ltd., 2007)
This edited volume addresses three major areas of national and international security research from an information systems-centric perspective: legal and policy frameworks; intelligence and security informatics; and emergency preparedness and infrastructure protection. The discussions include real-world case studies and examples that present the concepts using an integrated, action-oriented and theory-based approach.

Introduction to MIS Laboratory Manual
By David Murray (Kendall/Hunt Publishing, 2007)
This manual was conceived as a companion workbook to the "Introduction to MIS" class, with exercises and FAQ sections.
Suresh presents on logistics progress in China

Nallan Suresh, chair and professor of operations management and strategy, addressed the logistics and transport councils of the Buffalo Niagara Partnership in October, making a presentation on the remarkable progress in infrastructure and logistics sectors in China during the years 1988 to 2007.:
Since the advent of economic reforms in 1978, China's participation in global trade has been increasing significantly. In order to support this rapid growth in commercial interactions with the rest of the world, major improvements to China's transportation infrastructure have been necessary.:
Suresh outlined China's ambitious plans for the future in these areas. For example, the Chinese government plans to invest more than $250 billion in the country's road network alone. This is projected to result in a longer and more modern highway network system by 2020 than the United States' interstate system. The railway network also is due for $250 billion in improvements. In addition, Suresh presented details on China's plans for port and air cargo infrastructure, based on his recent visit to the new Yangshan Deepwater port in Shanghai (now the world's largest in terms of container shipment volume) and other infrastructure projects.:
Following the presentation, members of the partnership asked Suresh about the best regions to market in China over the next few years, and what types of sourcing, logistics and distribution problems they might face in various regions of China.:
Suresh said that central and northern China are the country's main growth areas for new markets. He added that the logistics industry "is still in a very early stage and it continues to be a problem, especially in central and western regions of China. In addition, nearly all of the retail businesses are still within the unorganized sector, and reaching end-consumers remains a problem.":
New faculty bring talent, expertise
In fall 2007, the School of Management added seven new faculty members.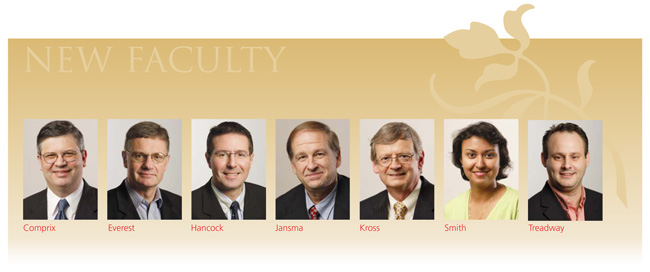 Joseph Comprix joined the Accounting and Law Department as an assistant professor. He has a doctorate in accounting from the University of Illinois and was previously a faculty member at Arizona State University. A member of the American Accounting Association, his research interests include the impact of financial accounting information on capital markets.
Nick Everest, a long-time adjunct in the Department of Organization and Human Resources, is now an assistant professor. He has a master's degree in executive leadership and change from Daemen College and owns a consulting business which focuses on strategic planning, organizational change, team building, performance management and leadership development.
Philip Hancock is a visiting assistant professor of operations management and strategy. A native of Scotland, he previously worked in procurement and support services management for the Scottish Prison Service. This experience is strongly related to his research interests in extreme events, emergency response, service management, public sector management and quick-response purchasing and procurement. He has a doctorate in strategic management and an MBA from Scotland's Napier University.
Andrew Jansma, associate professor of accounting and law, has a doctorate and MBA from the University of Minnesota with emphases in accounting, information systems and decision sciences, and a master's degree in computer science from the University of Iowa. He previously served as an assistant professor at Michigan Technological University, where he developed a course in accounting information systems. He is a CPA and is certified in data management.
William Kross, professor of accounting and law, was previously a professor at the Krannert School of Management at Purdue University, where he received the Outstanding Teacher award and was on the Distinguished Teacher list. He has a doctorate from the University of Iowa with a specialization in accounting and insurance, and a master's degree in accounting from Western Illinois University. His current research focuses on market earnings expectations.
Sanjukta Das Smith joined the Management Science and Systems Department as an assistant professor. She has a doctorate in operations and information management from the University of Connecticut, a master's degree in management systems from Clarkson University and an MBA for India's Calcutta University. Her research interests include the economics of information systems, market mechanisms for grid computing, online auctions, and impact of piracy on digital goods.
Darren Treadway, assistant professor of organization and human resources, previously served as an assistant professor at the University of Mississippi. He has a doctorate in organizational behavior and human resources management from Florida State University and an MBA from Virginia Tech. He has published research papers on social skills and organizational support in job performance, bullying in groups and global organizations, and political skills in organizations.
Wang finalist for best paper award

Charles Wang, assistant professor of operations management and strategy, was selected as a finalist for the 2007 Best Paper Award by the Decision Sciences Journal for his article, "Channel Coordination for a Supply Chain with a Risk-Neutral Manufacturer and a Loss-Averse Retailer." Wang and his co-author, Scott Webster, the Steven Becker Professor of Supply Chain Management at Syracuse University's Whitman School of Management, were honored in November with other finalists at the Decision Sciences Institute Annual Meeting in Phoenix.
In their paper, the researchers examined various supply chain contracts. Due to rapidly changing consumer tastes and technological innovations, many manufactured goods, such as fashion apparel, electronics, personal computers and toys, have short life cycles and volatile demand. To reduce the risk of excess inventory for such products, retailers tend to order less than the supply chain's optimalinventory level, resulting in suboptimal supply chain performance.
Supply chain contracts can be designed to provide incentives to supply chain partners to improve supply chain performance. Most research on supply chain contracts is based on risk neutrality, yet there are many examples of managers' decision-making behavior that is not consistent with risk neutrality.
Authors Wang and Webster use loss aversion rather than risk neutrality to describe the retailer's decision-making behavior in the supply chain. They analyze various contracts that include gain/loss sharing and buyback credit provisions as well as the special cases of wholesale price only, gain/loss sharing and buyback contracts.
Through their analysis, the authors help to identify when and how a manufacturer should use gain/loss sharing and/or buyback credit provisions in a contract with a lossaverse retailer. In addition, they identify a special class of distribution-free coordinating contracts that is independent of the probability distribution of market demand-important because it is challenging for the manufacturer to estimate the nature of market demand.
Decision Sciences editor, Vicki Smith-Daniels, wrote, "Wang and Webster's study contributes to the growing field of research on supply chain contracts and decision-making behavior, a top-priority research area for the Decision Sciences Journal."
Study reviews attitudes about counter-terrorism information

The fact that people prefer receiving anti-terrorism and counter-terrorism information from local law enforcement agencies rather than from federal authorities is one of several key findings from research recently conducted by H. Raghav Rao, professor of management science and systems in the UB School of Management, and JinKyu Lee, PhD '07, assistant professor of management science and information systems at Oklahoma State University.
The preference for local police over the FBI, Department of Homeland Security and news media was found to be the case regarding information about possible terrorist attacks as well as for reporting potential terrorists.
When looking at the issue of competence,however, the researchers found that people believe the FBI has much higher competence in anti-terrorism and counter-terrorism operations than other organizations examined, including local police, the Department of Homeland Security and news media.
"Clearly this calls for better information flow between the different agencies and the necessity for complementary actions by the FBI and police," Rao said.
In addition, the study showed that people believe the World Wide Web and landline telephone networks are more reliable channels in anti/counter-terrorism situations than e-mail and cellular telephone services.
"Interestingly, the FBI is believed to protect people's privacy the best, while news media companies are the least trusted in terms of privacy protection," Rao said. The research was supported by a National Science Foundation grant.