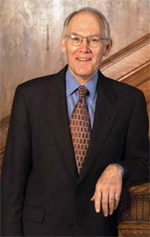 A Message from the Dean
A World of Change
For those of you who may not yet have heard the news, I announced in the fall that I will be stepping down as dean of the School of Management.
It has been a great pleasure to serve as dean of one of the nation's best business schools. My objective was to serve five years as dean and help guide the school into the 21st century and it's hard to believe that time has flown by so quickly.
During my tenure, I've enjoyed working with UB President John Simpson and Provost Satish Tripathi on major university initiatives, particularly UB 2020. The university is poised for great things, and I hope to continue to lend my support to the president and provost as they implement UB's ambitious plan for the future.
A national search for a new dean is under way, and I will stay on as dean until my successor is in place. Then, I plan to return to the school's faculty as professor of operations management and strategy, where I hope to develop new ways to bring into the classroom the school's extensive international expertise and connections.
I look forward to again concentrating my attention on enhancing the school's global business focus. The world's economic landscape has changed enormously in the five years I've served as dean, and I am especially excited about bringing to our students and area firms new insights from the international business community.
In the meantime, take a look at this issue of Buffalo Business and read about the many exciting things that are happening in the school. From new faculty and cutting-edge research to innovative corporate training programs and prominent speakers, the School of Management continues to strengthen its presence both within the region and well beyond it.
I am very grateful to the school's faculty, staff, students, alumni and members of the business community with whom I've worked so closely. Together we've accomplished many great things, and together, we can enjoy the benefits of the school's continuously expanding worldwide reputation.
Sincerely,
John M. Thomas
Dean