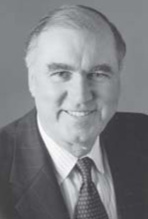 Generous Benefactor
$1 Million Gift to Fund Endowed Professorship in Management
To help the UB School of Management attract and retain top talent and build its Global Services and Supply Management program, H. William Lichtenberger has made a $1 million gift to the school to establish an endowed fund that will be used to name a professorship.
The H. William Lichtenberger Professor of Global Services and Supply Management was created, in part, to recognize the leadership of John M. Thomas, outgoing dean of the School of Management.
"We are honored and extremely grateful for Bill's gift to the school," said Thomas. "His generosity will enable us to build a world-class program designed to train managers for a 21st century that is increasingly defined by the global dispersion of information, services and business processes. The Lichtenberger professorship also will provide the faculty leadership we need to conduct cutting-edge research in this exciting area of management practice."
As a teenager, Lichtenberger and his family were forced to flee from the former Yugoslavia, and he later earned undergraduate degrees in liberal arts and chemical engineering from the University of Iowa. In 1966 he earned his MBA from the UB School of Management.
While studying at UB, Lichtenberger divided his time between school and the roles of husband, father and full-time chemical engineer. He worked his way up the corporate ladder at the former Union Carbide Co. and in 1992 was named chairman and CEO of Union Carbide spinoff Praxair, one of the world's largest industrial gas companies.
Lichtenberger advises future MBA graduates to hone their skills both inside and outside the classroom.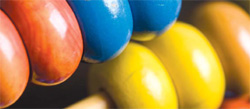 "Throughout your career, you're increasingly going to be working with people on social and societal issues," said Lichtenberger. "So as you sit there in your studies, try to relate them to the larger picture. Also, you will need to effectively communicate both verbally and in writing to get your ideas across. Be sure you are prepared to do this as soon as you start your career," he added.
At the height of his career, Forbes ranked Lichtenberger as one of the top dozen most powerful executives in the U.S. chemicals industry and one of the most powerful chief executives in all of corporate America.
A strong believer that industry and education should be partners, Lichtenberger played a key role in helping to develop the UB School of Management's Executive MBA program in China, helping to advance Chinese knowledge of Western business practices.
Lichtenberger retired from Praxair in 2000. He has served in the past as a member of the Business Roundtable, a director of the National Association of Manufacturers, and a member of the board of the Chemical Manufacturers Association. He currently serves on the boards of Huntsman Corporation and Ingersoll-Rand and is chairman of Treasure Coast Hospice, headquartered in Stuart, Fla.
In 2001, Lichtenberger was awarded an honorary doctorate from the State University of New York.
The H. William Lichtenberger Lecture Hall in the Alfiero Center is named in honor of a prior gift to the school, which he made in recognition of the School of Management's contribution to his career success.
Lichtenberger and his wife, Pat, divide their time between Palm City, Fla., and Ridgefield, Conn.
- Jacqueline Ghosen