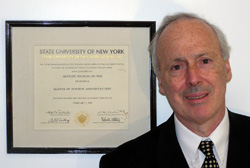 Argentinian Alumnus Remembers UB Fondly
Close-Up: Alfredo R. Artime
Alfredo Artime's affection for the UB School of Management spans nearly 30 years and 5,000 miles. Although he received his MBA degree in 1979, his strong feelings for his U.S. alma mater extend all the way to his hometown of Buenos Aires, Argentina.
In fact, Artime credits his School of Management education with endowing him with the necessary skills and experience that led him to his current position as president of Cardiolab SA, a distributor of high tech implantable medical devices.
Cardiolab plays an important role in Argentina with the introduction of innovative medical therapies and devices in cardiology, cardiac surgery, diabetes, urology and interventional cardiology. Its product portfolio includes heart pacemakers, cardiac defibrillators, cardiac resynchronization devices, coronary stents and heart valves.
After receiving degrees in business administration and certified public accounting from the University of Buenos Aires, Artime decided to pursue his MBA in the United States. "The intention of getting the MBA was to achieve advancement in my career, with the ultimate goal of getting hired by a multinational company after my return to Argentina," he says. "I had some previous working experience in Argentina, and I was motivated to enrich my educational background with a graduate program in English."
"The School of Management gave me an expanded vision of the business organizations in your country and an understanding of the business language."

Alfredo R. Artime
He made the long trek from Buenos Aires to Buffalo in January of 1978. "It was my first trip abroad and I received countless wonderful experiences," he says. "I remember visiting Niagara Falls in the winter and summer. I also remember a bad blizzard that occurred one night when I was walking along Main Street, where the School of Management was then located."
Most of all, Artime remembers the great education he received. "I learned a lot from the faculty, with some distinguished professors who had the capacity to create great interest in their subjects," he says. "The School of Management gave me an expanded vision of the business organizations in your country and an understanding of the business language."
Upon earning his MBA, Artime achieved his career goal by getting hired by a U.S. manufacturing company of medical devices to represent their interests in a joint venture being launched with a local company in Buenos Aires.
After four years, the joint venture was finished, but the operation was transferred to a new local company, Cardiolab, in which Artime became a partner, and, eventually, president. "I enjoy being active every day, running the business and supervising operations in marketing, sales, finance and logistics," he says. "I also enjoy when we add new products to our portfolio and launch new devices in the marketplace."
In his spare time, Artime keeps active as the father of two teenagers, and enjoys running, tennis and scuba diving. He is also a private airplane pilot.
Artime's MBA degree is displayed with pride in his office. "My time in Buffalo was full of rewarding experiences that enriched my life and opened my mind to new and different ways of thinking and living," he says.
- Cathy Wilde